Many auto shows have been cancelled due to COVID19 measures, here's how automakers are filling the void.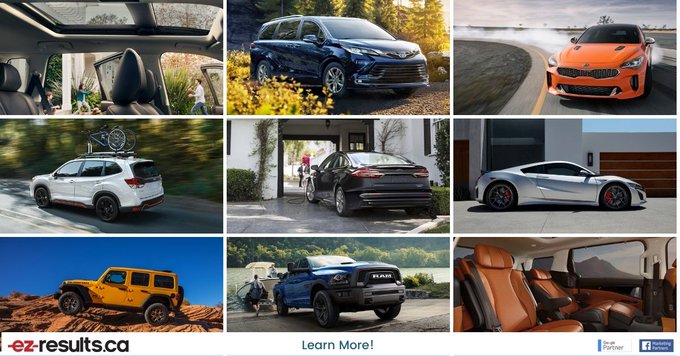 Toronto, Detroit, LA and the UK are usually abuzz this time of year with concept and vintage car showcases, new model highlights and dealer tradeshows. The automotive industry is packed with new products, innovation and collaboration, now more than ever! Certainly, the event industry has taken a hit, it's understandable to question if the auto show industry will return, in the interim brands and auto publications are working diligently to capture the attention of consumers in wait.
KIA CANADA
Kia Canada has had a successful first quarter showcasing their 2021 and 2022 lineup via their month-long Virtual Auto Show Experience. Using a 3D lobby space with a variety of Kia presentations, demonstrations and even live chats and people are eating it up! We've mentioned it time and time again, most consumers are more comfortable learning about new vehicles on their own time. Virtual auto shows allow customers to get deeper and deeper into the engagement funnel. According to Kia Canada, actual human Kia representatives are also online to answer questions and set up dealership appointments for potential shoppers. "What began as a solution to not having in-person auto shows evolved into a contemporary, category-leading consumer experience," said Elias El-Achhab, Kia Canada's chief operating officer. "Our team has created a truly immersive virtual space." The Canadian Kia Virtual Auto Show Experience will be wrapping up at the end of this month.
BMW
BMW took an interesting approach attracting their Canadian consumers back in February. They offered previews of the upcoming BMW iX and i4, Bowers & Wilkins headphone giveaways, and a free movie code from the Cineplex Store and it worked! They were able to draw in large virtual crowds, larger than they even anticipated.  Andrew Scott, director, BMW Brand Management in a press release. "Auto shows give us the opportunity to share our passion for BMW with the people who love our cars as much as we do. We couldn't let a year go by without getting together with them or telling them how much we appreciate their support, so we brought our products directly into their living rooms. Digital formats are a great way for us to remain connected with our community. Our customers are our priority, and a key step in supporting that is being where they need us to be."
Driving.ca
Even publications like Driving.ca are getting in on the action. They couldn't leave their loyal attendees hanging this year and it seems like the virtual format is here to stay. Their 2021 Virtual auto show was sponsored by Toyota and hosted by award-winning automotive writer Lorraine Sommerfeld.
Brands like Acura and Nissan have followed suit by creating specialized virtual experiences for their target audience. Experience Acura and Nissan Studio are great examples of how your dealership can incorporate virtual experiences on a smaller scale. These microsites have a number of pre-recorded videos exploring new vehicles, Q&A as well as the shop from the home process.
---
The future is digital, and the future is now. Consider incorporating virtual experiences in your marketing strategy and level up your engagement. It can be as simple as adding 360° views of your top inventory or booking personalized walkarounds via Zoom. Open your mind to involving local enthusiasts and influencers in your virtual experiences. Collaboration is exciting because there are more opportunities to engage with consumers with different and overlapping interests. In this case, more is more! Talk to your consumers about concept cars, model updates, staff highlights and EV lineups.
Get creative!